In 4‑H programs, kids and teens complete hands-on projects in areas like health, science, agriculture and civic engagement in a positive environment where they receive guidance from adult mentors and are encouraged to take on proactive leadership roles.
There are currently three chartered clubs in Iron County, the Iron County Green Team, the Adventurers of the North 4-H club, and the Penokee Range Livestock Club. Each of these clubs offer different opportunities. Please contact the club leaders listed below for more details to see which club is a perfect fit for your child.
Iron County 4-H also manages the SISU Endurance Team, a special interest club, aimed at getting young people engaged in outdoor sports year round through cross country skiing, running and mountain biking. It is open to youth in Gogebic County, MI and Iron County, WI and all skill levels are welcome to participate.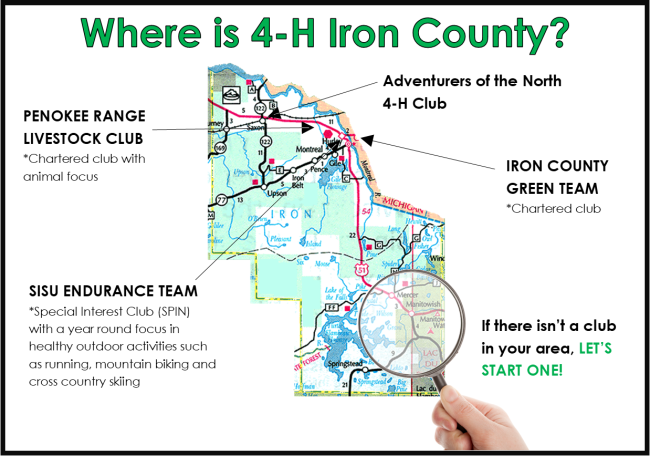 Interested in volunteering? Become an Iron County 4‑H volunteer today and help create life-changing experiences for youth in your community. 4-H volunteers provide caring and supportive mentoring to help our local youth grow into true leaders.
| CLUB NAME | LEADER(S) | CONTACT INFORMATION |
| --- | --- | --- |
| Adventurers of the North 4-H Club | Penny Ratkowski & Deb Swartz | 715-561-2695 |
| Iron County Green Team | Neil Klemme | 715-561-2695 |
| Penokee Range Livestock Club | Courtney Maslanka | 715-561-2695 |
| SISU Endurance Team | Neil Klemme | 715-561-2695 |