FoodWIse Impact Report Iron County
FoodWIse is federally funded statewide by the the Supplemental Nutrition Assistance Program-Education (SNAP-Ed) and the Expanded Food and Nutrition Education Program (EFNEP). To read more about the FoodWIse Impact in Iron County visit the following reports:
FoodWIse Impact Report 2022
FoodWIse Impact Report 2021
FoodWIse Impact Report 2020
FoodWIse Impact Report 2019
FoodWIse Outcomes & Impacts
Making healthy choices on a limited budget isn't always easy. The University of Wisconsin-Madison Division of Extension's FoodWIse program works in partnership with local, regional and statewide partners to transform the health of Wisconsin communities. To learn more about FoodWIse outcomes and impacts in WI, visit the following reports: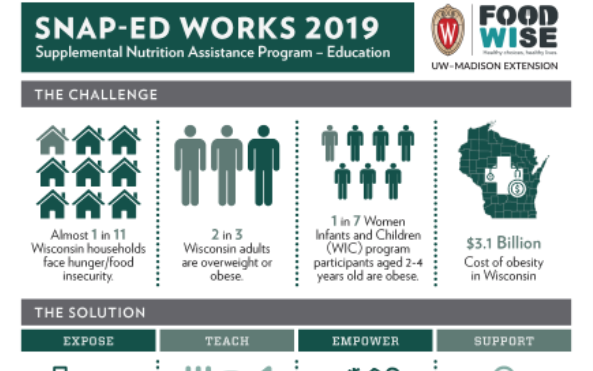 SNAP-ED Works Infographic
FoodWIse works out of county Cooperative Extension offices and in collaboration with state and local partners. We are active in 69 of 72 Wisconsin counties. SNAP-Ed funds programming in 69 counties.
To learn more about SNAP-ED, click here!
Questions?
If you would like to learn more about FoodWIse Nutrition Education in Iron County, please contact:
Deborah Leonard
FoodWIse Educator (Ashland, Bayfield, Iron Counties)
Extension Iron County
300 Taconite Street, Suite 118
Hurley, WI 54534
Phone: 715-561-2695